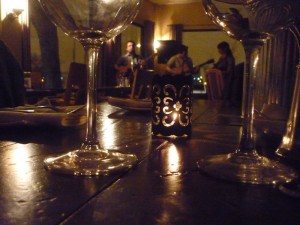 1,2,3
And the music starts. Slowly, with a folk-indie rhythm, a singer and three guitars. Music is everywhere. It fills your ears, your eyes and it wakes the music lover that sleeps in you. Whether you want to party or to enjoy a meal in a restaurant, music is always around.
It's December and although the landscape is white, there's not enough snow to start the winter activities. No cross country skiing, no skating because the river hasn't frozen yet. The plaines around the city don't encourage the tourist to go hiking or sight seeing. The next festival is only in February.
Yet Winnipeg lives. It dances and it laughs. Every night or every day there is a concert somewhere in the city. In a fancy restaurant or in a bar in Osbourne. Late at night, people go out and enjoy some good tunes and along them they sing, they play or they listen. Music is accessible to those who are shy, to those who know it and those who don't. Musicians are close to their audience and the audience participates in the show. We talk to the band, we clap, we beat the rhythm with our feet, we laugh.
It's another world and yet you're a part of it, even if you weren't born a guitar player.
Winnipeg at day is shops, multiethnical restaurants, cinemas and parcs. I would almost say it's a classical city except that it's not. Because even in your casual life you connect with people, you talk to them and you feel that they like their city. And even with sunshine, music is here. It's the second skin of the city, always here, in the background. Musicians in the skywalks or on the streets, music in the restaurants and in the shops.
You got it, there are concerts to go to in Winnipeg. Some people don't like music as much as I do, I understand that. But the good part of going to a bar and listen to a band is that you seat there and talk to your neighbour. And there. That's how easy it is to meet people in Winnipeg. Music bring us together, even if you don't appreciate the chords you hear. And from there, well… you know the music. You meet someone and that person shows you his/her city according to his/her interests.
And that's how you spend 10 fantastic days in Winnipeg in early December. We were a bit sad to leave and will miss all the persons we've met.
I've listened to organ, violin, ukulele and of course some guitar. I've liked them all and I would love to play some of their songs in this blog but I can't host them all; here's a link to a song I loved, by Haley Carr: http://www.youtube.com/watch?v=fCd49S2LKJk .
 Sweet Alibi
 Haley Carr and Adam Young
Until then, something for those who are tired of reading about Winnipeg's music :
Tourism in Winnipeg, here's what you can do :
– the Forks, a small cosy food market, Taste the cinnamon donughts, they're excellent!
 the market from 2nd floor
 View on the river from the market
– Fort Whyte, where they have a huge aquarium and kilometers of hiking trails. Doing it all might take two days but at $6 the entrance I think it's worth it.
– Visit the city's areas : St Boniface, where the French speaking comunity is, Osbourne village with its little shops, the West End and its international food restaurants (more about that here), St James and the Assibione Park, the biggest park ever placed in a city.
 La Basilique de St Boniface
 View from St Boniface
 Assibione Park on a snowy day
– The festivals : le Festival du Voyageur is held in February and everyone waits impatiently for it. If you're visiting during summertime, there are a lot more festivals in and around Winnipeg that you don't want to miss, but you'll have to check the internet or the tourism centre for more on that.
– Winter activities : Cross country skiing and skating are the most popular in this area of Canada. In January, when the river is completely frozen the city turns it into a giant natural skating ring.
Cool places to listen to music :
On Sundays, Times changed high and Lonesome Club (yes, all that), On Main Street
you can check their website to know what's going on : www.highandlonesomeclub.ca
 On Tuesdays, The Toad, Osbourne Street.
On Wednesdays, either Karaoke night at the Cavern (just below the Toad) or concert at The Parc Theatre (small concert room with a good athmosphere because you're really close to the musicians. You can buy beer but it's neither a bar nor a restaurant)
There are plenty of other places for each day of the week. On Thursday and Friday we went to two restaurants : La promenade and Bella Vista where some bands were playing.
December 8, 2012