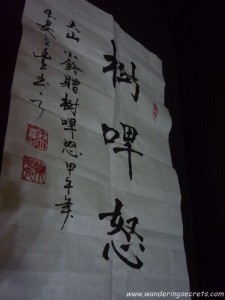 What follows is one of the best, if not the best, story that happened to me in China. I had to have a calligraphy made for our friends visiting us in China. At this time we were in Xi'an, so I escaped for a couple of hours under false pretences and went to the artist quarter. I knew which artist I wanted but it was getting late, hence I found him closed. That's why this story is so important to me, because it kind of happened by accident, and that makes the best stories, the ones you don't expect.
So I had to choose another artist, after looking at them all, I picked one because I liked his style. I explained to him what I would like him to write. Of course, in Xi'an, English is not an option and I had to explain in Mandarin so it was quite funny because what I wanted didn't mean anything, it was only a phonetic translation of a couple's surname. It got the Chinese confused because I told him it was a name for two persons. First he didn't understand that a name could be for two persons, second it wasn't a Chinese name and didn't mean anything in Chinese, that was too much for him to understand.
That's when everything became memorable. Because instead of getting angry or anything, we started to laugh and he called every Chinese around to try to understand. Of course no one did but who cares because we were all talking, everyone was offering cigarettes to each other, and we took a lot of pictures together. That was already awesome, but my favourite part is what follows. We were getting along so well that he asked me when I was coming back to Xi'an, and I answered maybe never because we would fly to a new place to live soon. He was really sad for me, as was I because there is something special with China. Therefore he told me: "I'm going to draw you a calligraphy just for you, with your Chinese name, and I'll sign with my name, the date and this place so even if you never come back to China, you can look at it everyday and remember this day, China and Xi'an."
That's how I finished my year in China. I could never have dreamed of a better end for it, and will never forget this day.
-Guillaume
January 5, 2015