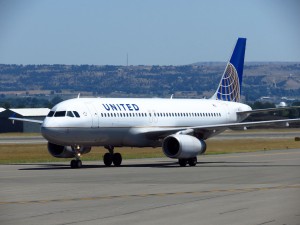 Planes are not my thing. At all. I hate planes, I hate being in the air, I hate looking at the window and looking at the clouds. For me, taking the plane is like going on a suicide mission that might fail. Anyway, you get it. I won't say that there are no other ways of travelling because that's NOT TRUE but still, I admit that flying is convenient, especially when you love travelling.
I've flown with West Jet, Air France, Aerolineas Argentinas, Air Europa and some others. Among them, the worst company ever; please meet: United Airlines.
La Guardia airport: A lot of flights had been cancelled because of the bad weather, and mine among others. I had a connection in Washington and I was going to miss it. Fortunately, I managed to get up in an earlier flight (after having looked for staff through all the gates). That plane was late, but not cancelled. We got up, ready to go and a long wait started. Apparently there was some "paperwork" missing.  I don't know; maybe it's true, maybe it's not but when you see the pilots desperately looking for something in a big (handbook, guide?) book, you worry. You worry because the pilots can't figure out where is whatever they need to find before taking off, and you worry because you can see and hear everything they're doing (oh yeah, the plane was THAT small).
The flight: It was the worst flight ever. It was so horrible that I actually cried and thought we would all die. I know I asked to be on that plane, but why the hell would they decide to fly with such an awful weather? There was a reason why the other planes had been cancelled and unfortunately, I understood that once we were flying. Maybe it was the weather, the pilots or the plane, or maybe the combination of those three features but imagine; we were shaken so hard that no one was allowed to stand. Not even the stewardess (she was on her own and she wasn't reassuring at all, I think it was her first time alone).  A whole hour of shaking and falling and raising up again, all that in the dark (no lights on the plane). And of course, taking off and landing were as terrible as the rest of the flight.
The trans-Atlantic flight: We finally arrived to Washington to take our connection to Frankfurt, Germany. I'm usually more relaxed on trans-atlantic flights because the size of the plane brings me confidence. It's less noisy, less shaken and you have more space. So the plane itself was very nice. The seats were huge and comfortable and we had small screens were a bunch of dvds and cds were saved in. I took off with Adele in my ears (I don't think I was allowed to do so but the staff didn't say anything). So that was nice. We had dinner (nothing to say here) and then it was time to sleep. Almost like a fairy tale. But then… then we entered in an infinite area of turbulences that never ended. Again.  I know for fact that pilots try to avoid them, and I also know that they can see if there are turbulences on the way. But on our plane, the pilot didn't seem to know better than us. The seatbelt sign lit up once seatbelts were already fastened (oh yeah, everybody went back to their seat, no one played the hero). His first announcement was "ladies and gentlemen please fasten your seatbelts". Later during the flight, the polite messages turned into "seatbelts please" and then "seatbelts" and "cabin crew, gain your seats". So reassuring. I wish he would  have just lit up the sign and not say anything, but repeating "seatbelts" over and over again (no one took them off anyway) was unnecessary and so stressful.
We're alive!: The landing was as bad as the rest of the flight for no apparent reason, but at least we were alive.
The crew: wasn't entirely American (actually, only the pilot and one male steward spoke English) , the others were French. And as good French people, they criticized the passengers, the pilot, the flight. Why is it that when you're French and you work in public service you have to be rude and  unpleasant?
The flight back: Oh yeah, I really wish I weren't but I am flying with them to go back to New York. Funny story, I had to change the date of the flight back and apparently the customer service is somewhere in Mexico with even ruder guys than those on the plane. It took him 20 minutes to understand what I wanted, another 20 minutes to give me the next dates and tariffs of the flights (with sighs and swearing words) and in the end I had a big "oh, come oooon!" when I told him I wanted to pay the price he'd  announced five minutes earlier (I didn't try to understand why there was a sudden shift in the price, the call had been long enough). In the end, 45 minutes on the phone that cost me a fortune and $400 of charges to change both our tickets.
Anyway, that's the story of my flights with United Airlines, I don't think I need to extend the conclusion. Bad timing, awful small planes and more importantly, stressful staff.
I just wish I could go back to America by boat, but that's –for the moment- a theory I'm seriously working on… any sailors wanting to teach a beginner, please wave!
January 10, 2013