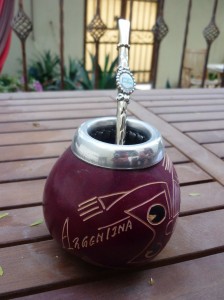 Buenos Aires is becoming a fashionable destination. I don't know why (or rather, why now), but it is. And for this wonderful country, I want to give you the chance to live what there is to live and to feel what it's like to live there.
I've decided to write this post today because it hurts me to see how tourists come back with the same photos you can find in Google image. The sames that you can find in your guidebook, the sames your friend, who was there two years ago, has. It hurts to see how happy people are when they pay $100 for a tango show, and they can't appreciate it because they don't experience it. Buenos Aires is not just a big city and not all is about tango and La Boca.
Everything I've written so far leads to this : I want people to learn from the culture and the country they're visiting, I want them to ask themselves in which way this city represents its country and its people. Because one thing you can say is that Bs.As is a true capital city. As opposed to economical capital cities like Ottawa or Washington, Buenos Aires is the heart of the country where Argentinian blood pulses. All the aspects of the country, good and bad, are to be found there.
So here, seven tips for your visit to Buenos Aires:
1. Safety! Don't show off your camera. Try to behave like a normal person, not a crazy animal flahing all the buildings and markets and especially not the people. Nobody will kill you, but you have to know where you are. Argentina is a developping country and there is still a LOT of people in need. So for your own good and out of respect, be modest and don't show around your high-tech toys; Enjoy what you see with your own eyes.
2. Visit the Recoleta cementery. I know it's in all paper guides but it really is something to see. Try to get the free guided tours in the morning (preferably in Spanish, you'll have more details and you'll be with Argentinians). You'll get a slight idea of Argentina's history and social aspect. Again, try to talk with the persons of the group. If they're Argentinians, ask them how they felt about such and such politician, you'll be surprised.
3. Wander around Sante Fe street. Or I should say, run. Santa Fe is one of the busiest streets of the city and that makes it one of the best places to get a vibe of Buenos Aires. You'll notice how fast people walk, how they don't seem to have time for anything, how they rush everywhere, even if they're going to a cafe. Look around you, look at the shops. There's nothing for tourists there, everything is for the locals. Enjoy that while you still can!
4. If you're interested in tango, dance it. In this country, we love dancing. And every night there's a bar somewhere -not too hard to find- where people gather and try to move their body in rythm. Those are perfect places to meet people, to talk to them and of course, to dance. That's a typical thing to do in Argentina and it's called Milonga. Milongas take place at day or night (from midnight onwards). As you can probably guess, the night Milongas are the ones where you'll be free of the tourist rush. Don't be shy and try it out!
You can check this place : http://www.elbesotangobar.com.ar/documents/milongas.html but there are many others.
Cinthia Labaronne and Jens Kruger
5. If you want to go for a drink in the evening remember to remain careful. If you're coming back home after 10pm, take a taxi (try to look like you know where you're going)or a bus if you're a man or an accompanied girl. For a night out, there's Palermo Soho and plaza Serran in Palermo Viejo. Again a place mentioned in guides but that's where students and young adults go, so… expect noise, loud music and loud voices! You have to know, this place is rather expensive for a « porteño ». For concerts go to Luna Park, there's always a great concert going on. Or, if you're looking for fine restaurants and people with reasonable behaviour, try the Costanera area or Puerto Madero.
6. Eat lots and lots and lots. And drink. Argentina has the most delicious meat I have ever tasted and it also produces my favourite wine. Wines are sweet compared to French ones because the tannin is round, less present. And the meat… if you've been around for a few days, you'll understand why people from Argentina are far from being vegetarians. Actually, vegetables are the enemy number1. Meat is everywhere, and it's really good. The best thing to do if you don't have any friends or relatives to organise an « asado » go to a parilla restaurant (steakhouse). You'll find that steaks are served without sides (no fries, no salad, no sauce) and once you taste the meat you'll know why. Avoid the restaurants around the Recoleta cementery, they are expensive and not good. In general, avoid any restaurant where you see the waiter outside and those who show a sign with the different edible parts of the cow. Remember that Argentinians know what they like and know where they want to go.
Cheap: http://www.juanam.com/ around 90pesos for two
Medium budget (count around 100 pesos for two) http://www.talasdelentrerriano.com.ar/home_spanish.html
 Pricey: Unfortunately I don't remember the name of the restaurant. It is in Avenida Sante Fe, right in front of La Madeleine. It is a gastronomic restaurant with a "parrilla" that has by far the best meat in town. There's all the choice you can hope for and the meat is just… unbelievable. I can't put words on it, you'll have to see for yourself! It's an expensive place (we paid 700 pesos for four people) but it's never empty… you get why.
And I forgot to mention the pizza and delicious empanadas. Empanadas are like small « calzone » and the most common are : filled with meat (surprise!), tuna or ham and cheese. They are as popular as pizza and it's what you would order if you're in a hurry or if you're having friends or family over. They can be fried or « al horno » (oven-baked), my favourite. Surprisingly, there aren't a lot of places where you can find good emapanadas. They taste better outside the city but we still found some good places :
Cheap : any place where you can find pizza but I liked this place for the empanadas: La Madeleine, Avenida Santa Fe 1726.
Pricey : This was my favourite place in Buenos Aires for empanadas. It's rather expensive (count 5 pesos – $1- per empanada) but they are excellent and varied. There also are other typical dishes don't be afraid to try them out, everything is excellent : http://www.1810cocinaregional.com/
For a big tasty cheesy pizza anyone will recomend : El cuartito http://www.galeriaelcuartito.com.ar/
empanadas  
7. Get out of there! Yes, that's my advice, leave the city, go someplace else. San Fernando (my hometown) is a charming little city. You can wander in the centre, walk by the river or go to the market (once a week). San Fernando is really close to Tigre, an ideal destination on a sunny day. Argentinians love to go there, have a picnic on the river's shore or go to the beautiful market. The shores of these small cities have the energy of a small downtown. I like that on a sunny day everyone goes there and has a « mate » with friends and family, a picnic, or eat a « choripan »; I like that it's a place where you're not alone, a place where you can canoe, take a boat, go to the market nearby or play games. If you like markets there's one in Escobar too, along the Paraná river. For all these places you can go by bus or train, the latter being the cheapest option – around 5 pesos- ( you can't find any tickets online, you have to go to the station).
There, seven tips for your trip to Buenos Aires. Why not more? Well, because Buenos Aires is not my favourite destination in Argentina and I don't think it's worth spending more than a week there; but that's my personal opinion. It all depends on what you're looking for with your travel and what activities you like doing. But don't be afraid to try new things, even if they're not « typical » because you have the chance to be in a huge capital city where you can find and do everything. More importantly, be surrounded by people; you'll see that people in Argentina are chatty and easy to talk to!
January 10, 2013