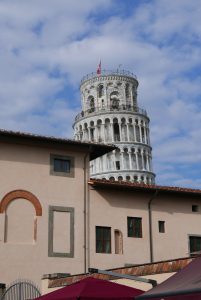 There was a time when I worked in an office as a webmaster and technical support person.
That time was the first and only time I could look up for cheap flights while at work.
I remember seeing a Ryanair flight to Pisa and booking it half an hour later.
I remember being thrilled at the idea of backpacking my "old way". Meaning not caring about overnight bus rides and long waits at the airport.
I remember watching the sun rise at the airport and the planes getting ready.
Then the ocean comes up, comes closer while the plane goes down.
It was a weekend of 201X and I wondered if the plane had a problem as we flew closer and closer to the water.
We landed safely and I got out on a warm autumn afternoon. Only a few kilometers separated the airport from Pisa and I walked down a street that reminded me of the towns around Buenos Aires. The paved walkway was distorted by the roots of the trees, the town smelled warm and cozy, the pastel colors and the sunset probably helping with that feeling.
I couldn't focus while walking around the center of Pisa. I remember the narrow streets swirling around, merging, the tiny piazzas, the small trees. The color pink came up to me.
I was looking for a place to sleep but couldn't stay focused long enough as my eyes discovered this enchanting town.
Obviously I had no idea of what to expect when I booked the plane to Pisa.
I hate looking at pictures before getting somewhere.
The room in the antique medieval building, the street lights, a glass of Italian wine and some antipasti later, I stumbled upon the Tower.
THE TOWER, the very famous one.
The piazza was beautiful, and I was speechless.
Nothing came to my mind at that moment. I just stared at the tower and the abbey in awe and surprise.
No one was around, I had it all for myself.
Then I thought the pictures on the internet do not pay a quarter of the tribute this place deserves.
And then I got a glass of wine and took it back to my empty piazza.
No one was around, but they would come the day after to take the photo where they pretend to be carrying the tower.
I sat down and contemplated the remains of the Italian Renaissance throwing its beauty at me.
November 17, 2019