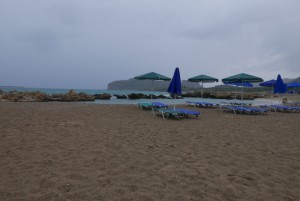 Before you think I' m that kind of backpacker, let me tell you a story.
On a cold and rainy day of October, a young female traveler was walking down the beach looking for some warm food to fill her empty stomach. Falasarna was pretty much a ghost town at that period and the only place that looked open was that bar, with its terrasse on the beach.
The young woman, feeling hungry and thinking she would be done within an hour, chose to sat down on the deserted terrasse. The bar had no chairs inside anyway.
Food was ordered, and the rain kept on pouring down until the waiter called her to come inside and share a small table with two other customers.
Food came, the backpacker ate.
It could have been the end of the story, with the woman going back home to read a book. But it was impossible to resist the temptation of staying in that small room where customers, waiters and cooks stood.
Within seconds, the conversation began.
Within minutes, the traveller was standing with the staff, sipping her wine.
Within the hour, everyone was standing at the counter, talking loud, laughing and sharing stories.
Then Vassili, the waiter, shouted: "let's play a game!"
Everyone was up for it, and the rules were simple: you have to drink raki.
Three bottles down and a headache later, it was time to leave Mama, Monique, Yaniss, Teofilios and Bassilis. By that time, it was late afternoon. The rain had stopped, the beach was calling.
The point of the story is not to encourage you to drink raki (although you really should!) but to show that moments don't just happen.
Moments are created and it's up to you to make the most out of them. To smile, to talk to people as if they were friends, to stand up and join them. Moments like that are how people remember you and are what you will remember when you're gone. You probably won't recall the name of that castle in that village in the middle of nowhere, but you are likely to remember how the castle got there and why its a ruin today.
Everything and anything is a good excuse to bring people closer. The rain, the heat, cats and dogs, music, an object, a language.
We left that bar having spoken Spanish with a jewelry maker, English with women from New-Zealand, and having listened to Cretan music and eaten their food.
This moment is one of the stories I'll tell when people ask me how my trip was, and I'll give them more details, and I'll imitate Bassilis' voice saying: "Mamaaaa drrrink rrraki, then you sleep in the caravan on the beach yeah!"
And it'll make me smile again.
November 2, 2015