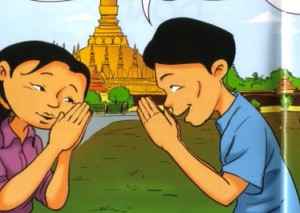 It took me some time to start writing about Laos. What to say, where to start, what to show. And then I decided, I'm going to show you with words. Things that pictures cannot show you.
When I travel I place myself as an external observer, a marginal poet looking for her muse in the atmosphere of the place. I have watched hundreds of tourists taking the same artistic pictures. The famous close- up on a minority village people, or on a child, on rice fields, their workers or the water buffaloes. Everyone brings back the same photos from here as they being the same photos from China ( the old man sitting on the street), making our friends and family feeling – rightly- amazed.
But how much is a picture worth? I've found that a lot of people only ask to see our pictures whenever we come back, practically ignoring what I write here. And I wonder, is the minority lady more important than the smell of wet and fresh air directly coming from the jungle? Is the silence transmittable into picture? The rythmic lao music coming from the house next door?
After having spent a year in China, I had forgotten that villages could be just that: villages. A few houses lined up on the  main track, dirt arising everytime a motorbike passes, a hidden child whispering " sabadi"( hello) at you, an old lady smiling back at you. I have missed the fresh air, the dark night sky, the moon, the stars, the smiling people and the silence. Going to the jungle and finding no one. Feeling the sunlight on my skin.
At last, peace and quiet.
But it's more than that, it's an atmosphere, something invisible that takes you elsewhere in time, back or forth, something peaceful in this village that pictures cannot translate.
So is it relevant to post pictures of random streets and people when what you will remember is the conforming feeling of the locals smiling back at me, this shared instant that will vanish in the air and will be forgotten? Them trying to communicate with me through a silent language sign…
Will you be interested in seeing hundreds of mosquitoes flying up your head at night?
Some things are best left to imagination. Let yourself dream.
This is Laos, and this is my Luang Namtha.
February 2014
February 7, 2014