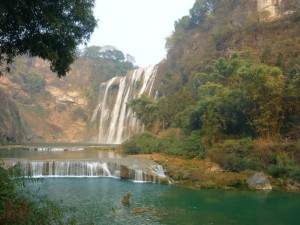 A nice place to visit around Anshun, but I think that despite the mass of tourists, it's better to go in summer. The water level will be higher and the waterfalls more impressive.
Huangguoshu Waterfalls is another artifical park. China's mountains are, for most, impossible to reach by yourself so parks have been built throughout the country. Many parks are truly amazing and worth every penny, but Huangguoshu didn't leave me with unforgettable memories. Again, it's probably because the water level was quite low, or maybe because of the coloured lights in the caves, or because the waterfalls are completely un-natural and a whole river was diverted to create them.
In any case, as I always say, don't let others keep you from traveling and sightseeing (especially in Asia); make your own opinion!
INFO:
Careful, you can't walk to all sites in the park as they are quite far away from each other. A car will cost you 50 Yuan per person even if you share the car.
Get there: from the EAST bus station in Anshun take any bus going to Huanguoshu waterfalls. 20 yuan, 1 hour ride.
Around: buses and cars wait for visitors at the ticket office. Both cost 50 Yuan. The car is perhaps a better option, as the bus has to wait for everyone to come back each time, it can take a long time.
Estimated time: a whole day or two afternoons. The ticket is valid for two days.
 January 2014
February 5, 2014