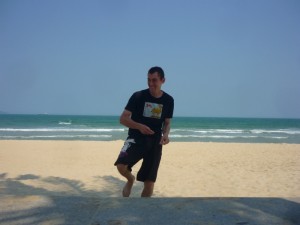 Finding something to say when you are really on holidays is no easy task. Tired of all the scams, of being put away for being physically different, of spending 24 hours a day just the two of us, we decided to stop our trip in Laos and head for some beach in Vietnam, until Guillaume's visa for China is ready. As simple as that, we chose a city on the map and took the bus ( we like to call it the ride from hell)  the day after.
Welcome to Danang.
A herd in fury was waiting for us at the bus station:" motorbike! Taxi! Let's go!" Ah, Vietnam, I did hate you as much as it's possible at that moment. One of the English girls who rode with us got special attention for wearing a pair of shorts, she even got grabbed and an old perv forced a kiss on her cheek. A warm welcome! The bus station reads.
As we usually do, Guillaume and I took our " don't even ask me I know the place you won't get anything from me" look and decisively walked through the exit and on the street. Took right on an avenue ( why not?) And kept walking until the station was out of sight. That's our ritual and it works like a dream. It's something I have starting doing when I was travelling alone, for safety. Looking confident about what you are doing and where you are going is your best shot at getting somewhere in peace. Anyway, as soon as we were out of sight we started phase two of the ritual: " Where the hell are we, thisplaceisshitwhydidwecomehere!" And frantically looking at google maps for more information that we won't have because we don't have access to internet.
So comes the time for hotel hunting. Walking and walking, usually we try to head to the centre but in Asia the best option is to get lost in the alleys and find the good deal. Now you see, we don't speak a word of Vietnamese. Not even hello or thank you. That's for having left Laos so suddenly. And not speaking a word of Vietnamese in a city where no tourists go, in the back alleys, is not an easy mission.
After having wandered for two hours, asked everyone we saw "hotel?" We ended up being directed to a three stars hotel near the city center. Nothing worse for the budget and the self-esteem. Seeing beautifully dressed girls going out of there when I was all sweaty, wet from the rain with a muddy backpack and a huge pair of trousers. Guillaume looked at me and we started betting on how much a room would be. For fun, we went inside to take a look at the price: 650,000 dong a night. No can do. We went out and starting walking again when we heard a little voice behind us:" excuse me, excuse me! You want a room? Can I help you?" The small young woman had run from the hotel to catch us. " yes, but it's too expensive for us"( can she not see me? I wondered) and finally, unexpectedly, we negociated a room for 200,000 dong a night: a treat! Bathroom, western toilets, clean bedsheets and even a tiny window!
And so we stayed two days in the room. Literally.
After which we decided to head to the beach I had so much dreamed about. The nearest beach was an hour walk from the hotel, which wasn't too much for us considering the amount of things to do in Danang is near to zero. The weather was great, the beach was great, the people were smiling ( and staring but we got used to that a long time ago) the food was great. So we decided to stay , not a night, not two but eleven in Danang. Yes, eleven. That's how tired I was after having worked like crazy in China. Eleven days of beach at a three stars hotel ( which was luxury for us but really didn't deserve the stars), oh, and breakfast -buffet- included.
That was beautiful Vietnam. Warm people, good food, beautiful landscapes. Not at all what I had heard about the country, especially concerning scams and rip-offs. But I knew that Vietnam would be here soon enough, as soon as we stepped into the touristic trail again.
It didn't fail. Starting with the Death beach. I named the beach like that because, well, everything was dead on it. Getting closer to the touristic attracting things always get ugly. Pollution, bitterness, dirt, fears. The sea was so dirty our hands were sticky after having touched the water. And the fresh water would turn black after washing our hands once back at the hotel.
And then Hanoi. Hell in a Tarantino movie. Everything is npushed to such an extreme it's actually ridiculous. Hanoi is The place where taxi drivers lock you in the car until you pay what they want to charge you for. The place where the meters are rigged, where there are special menus for foreigners, where fake beggars will follow you and go through your pockets if they can, where local food stalls won't serve you. Death beach all over again. And I wonder how can tourist stand this, how they can willingly stand to be mistreated, openly taken for a stupid rich person. I haven't got the answer.
I've read in a blog that South-East Asia has become the place to go for inexperienced backpackers. I have given this a lot of thought and have figured that although it's true, these countries can still be discovered by experienced travellers ( not talking about me) who have what it takes to go off the track and face the cultural shock, (not that strong compared to China) and who will go the extra mile to see these beautiful places, meet the friendly people who see you as a curiosity, not an ATM.
Those who can will see Beautiful Vietnam. Those who don't will go straight to Death beach.
February 2014
March 4, 2014