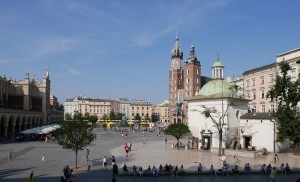 [section type="drink" title="Eat and drink in Krakow"]
Needless to say the city crawls with bars and restaurants. But if you're looking for something nice in the old town, there are some places worth trying more than others:
Note: Prices given are price for a beer as of the year 2015
Pubs and restaurants:
[guide] [item rate=3 title="House of Beer"] This small place is becoming more and more popular among tourists but it's still a great pub to discover and to hang out with locals! The beer is excellent, and they have a wide range of international and Polish beers. ul. Św. Tomasza 35, Kraków  [/item]
[item rate=3 title="Kuchnia u Doroty"] Good food, good beer and affordable prices, what else do we want? The Polish food is excellent and tasty, the service is nice. Meat courses start at 12 zloty, soups from 4 zl, other courses start from 9 zl. [/item]
[item rate=2 title="Wodka cafe bar"] You can't really go to Poland and not try their vodka. Here there's vodka for everyone! All flavours, all kind, and they even offer Polish brandies. A must try!  Mikołajska 5, Kraków [/item]
[item rate=2 title="Punkt Docelowny"] In the bar it reads :"Everyone should believe in something. I believe I'll have another beer". You know what kind of place you're in! Nice, laid back, very crowded at the weekends, people come here to enjoy a beer but it's more a place to party, be warned. Prices are affordable, starting at 5zl. 1 Staromostowa Street, Krakov 30-506 [/item]
Note:
[/guide]
[/section]
[section type="transport" title="Getting around Krakow"]
Krakow's main bus and train station is called Krakow Glowny and is a 15 minute walk to the old town.
All the other connections are made through Katowice, which is an hour away and connected by bus, trains or car pooling.
Getting in and out:
Getting to Krakow from Bratislava really was a nightmare! Difficult to think that two touristic cities 500km apart are so difficult to join!
From/to Bratislava:
*The nearest airport would be the one in Katowice. Then you can easily take a bus or train to join Krakow. The ride takes an hour, or an hour and a half.
The bus is the cheapest (and longest) option and here are some companies: From the train/bus station there's: Unibus and Bus-Inter leaving every 30 minutes. The ride takes 90 minutes approximately, and the tickets are bought on board. Price ranges from 12 to 14 zl. Please double-check the current timetables at Unibus and Bus-Inter official page
From/to Vienna and Bratislava:
*Polski Bus is the cheapest and most convenient bus ride. It takes approx. 6 hours and price ranges between 10 and 14 euros.
From/to Czech Republic:
*By bus: Student agency from Brno (20 euros one way, approx.4-5hours) with a transfer in Katowice and leaves you at the train station in Krakow.
****By train: http://czech-transport.com from Brno or Prague. Prices are not shown because there are international chunks. Check http://www.slovakrail.sk/en.html for cheaper prices.
Getting around
Getting around the city is fairly easy even if you don't speak Polish. There are maps everywhere, trams and buses run every 5-10 minutes until 12p.m. And people are always happy to help you if you ask.
You can either buy your ticket on the tram (3,80 zl for a single ride), or at the stop (but not always). The machine can be set in English, so no excuses not to buy one!. The tickets are valid for a certain time only, there's 15 minutes, 40 minutes and so on. Prices vary according to the ticket.
If you're only spending one day in Krakow I don't recommend you buying day tickets, as they are more expensive than what you would pay in single fares. Unless you don't like walking, but the old town doesn't allow cars in anyway.
[/section]
[section type="sightseing" title="A weekend in Krakow"]
Looking for some free things to do? Scroll down for tips and links!
A city that has survived years and centuries of war, a place where Polish folklore is very present and alive. However, there's more to the former royal capital than
history and nightlife. As you walk through the Old Town, you'll sometimes find yourself overwhelmed by the athmosphere of a quiet back street, or you might find yourself glaring at the houses disappearing with the last sun rays. It's at times like these that Krakow reveals its harmonious blend of past and present, an essential part of a visit to Poland.
This section focuses on a concentrate of attractions for those who are visiting Krakow in one weekend. If you wish a more extense/ detailed guide contact me! And remember that Krakow has a lot more to offer to those who have time…
***RECOMMENDATION**And before I list some nice things to do and see, let me recommend one of the best free tours I've ever done. I found them while I was waiting for another guide, talked to Damian and decided to stay with him. All free tour walks start at St Mary's Church, you just need to find the right banner. These guys are, for most of them, actual tour guides who know how to make a visit interesting, and not people who have learnt a list of years and facts by heart. The FREE WALKING TOUR FOUNDATION banner is orange and white, plus you get a detailed map with a lot of discounts!
Advertising is not my thing, but I do it whenever I feel something is really worth it, and I don't get anything out of it. ***
[guide][item rate=1 title="St Mary's church"] St Mary's church was built in the 1220s but its modern look is a mix of bits that have changed with years and war, which explains why it has two towers of different heights, a Renaissance dome or a Baroque porch. The legend has it that the trumpet melody coming for the upper tower hasn't been finished because the musician was shot by a Tartar. History says otherwise… The interior of the church is also impressive, with its blue star vaulting and colorful wall paintings that constract with a medieval architecture. [/item]
[item rate=2 title="Florianska Brama" photo="http://www.wanderingsecrets.com/wp-content/uploads/2015/04/Hlavene-Namestie.jpg"] Built in the 14th century, the remains of Florianska Gate and the city walls take us back in time. To the north of the gate, oustide the Old Town, is the Barbican, used to proctect the town from invasions. It was so efficient and powerful that no army could go through the gate, although there were other otptions to access the town… [/item]
[item rate=2 title="Town Hall Tower"] The tower seems to be standing there by mistake. Alone, behind the Cloth market and St Mary's Church, the Town Hall tower is the only remain of the 15th century Town Hall that was dismantled in the 19th century. It's possible to climb it, but the view will be better from the church. [/item]
[item rate=1 title=" Sukiennice- Cloth Hall" photo= "http://www.wanderingsecrets.com/wp-content/uploads/2015/04/Hviezdoslavovo-namestie.jpg"] Impossible to miss, right in the middle of the central square stands the imposant and beautiful Cloth Hall. It used to be a market hub around the 14th century and is today a covered market of souvenirs. Don't be afraid to bargain!  [/item]
[item rate=2 title="Collegium Maius"] A beautiful university, still working today! Built in a Gothic style in the 15th century, Collegium Maius has welcomed pupil Copernicus and has a museum dedicated to life in university: manuscripts, the oldest globe of the world, a classroom, etc. The museum is free on Tuesdays from 2p.m. Don't miss out the bells at 11.am! [/item]
[item rate=0 title=" the Papal windows" photo="http://www.wanderingsecrets.com/wp-content/uploads/2014/10/church.jpg"] The Palace is the second largest palace of the country and the residence f Krakow's bishops since the 14th century. Pope Jean-Paul II used to stay there whenever he visited, and the "papal windows" are famous thanks to him. One evening, the pope opened the window to address the crowd and, tired of his day and journey, simply said "don't you want to go to sleep?". That set him as an accessible person and people used to come to the windows to chat with him. [/item]
[item rate=3 title="Wawel Hill"] The splendid Renaissance palace was built in the 16th century. The original residence was built in the early 11th century by King Bolesław
Chrobry beside the chapel dedicated to the Virgin Mary. Kazimierz III
Wielki turned it into a Gothic castle, but it burned down in 1499.
Within 30 years the current palace, designed by Italian architects, was in place and still remains. The Castle is divided into four parts, and they sell a different ticket for each part. Make sure you arrive early in summer, the queue can be long! [/item]
[item rate=2 title="Jewish Quarter " photo="http://www.wanderingsecrets.com/wp-content/uploads/2015/04/Muzeum-Hodin.jpg"] the architecture Kazimierz is a flagrant witness of the past, with clearly distinguishable elements of what were Christian and Jewish quarters. The area is home to many important tourist sights, including churches, synagogues and museums. The architecture might not be as interesting as the Old Town's but the walk is worth it if you feel like taking a walk back to WWII and visit the popular Schinder's Factory. [/item][/guide]
***Information:
On a budget? Looking for something free to do?  Everyday of the week, one of the museums offer free entries! Check out this link to find out what's free ! ***
[/section]
[section type="history" title="Brief history of Krakow"]
[/section]
September 11, 2015