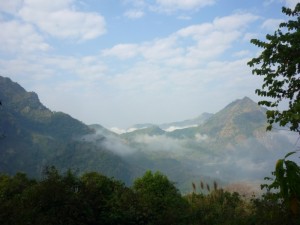 Waking up at first light with roosters crowing (I swear if I hear one more rooster at 4am I'm going to roast it alive) , walking up the streets as the morning dew slowly vanishes leaving a light mist behind. Watching girls combing their long black hair, mothers setting up the fire preparing sticky rice for everyone. Chicks and hens running around, cats wandering around them, a crowd of kids going to school. Life in this village is still peaceful, the locals enjoy their quiet routine before the mass of tourists wakes up and ruins the picture.
People are surprised to see us at the morning market ( beginning at 6 , finishing at 7, better get there early!), everything is fresh so we can't buy anything, seems like we really cannot escape the tiring, expensive, mediocre tourist restaurants we soon will have to face.
This morning is like a dream, walking through the life of people without having a part in it, moving in a haze that hides us from the life we cannot have. Tourists don't mix.
A morning in Nong Khiaw is as worthy as the rest of the day there, but with the peacefulness tourism doesn't give. A glimpse into the local life that reminds me that, although they give you a smile, in their mind a foreigner has money, money he has to spend here, money he will keep on spending later. A glimpse into their life that makes me sad for not being allowed to share it with them, to try their food or anything related to daily life. In restaurants, only certain dishes are translated in English, always the sames. For us, travelers, all prices take 10,000 kip more than the real price, but that's another story…
February 12, 2014