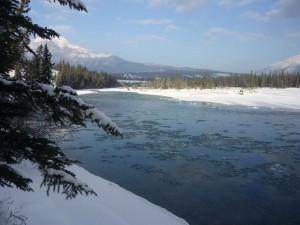 I think there's a lesson in every travel we make. Every place we visit that's not home has something to teach us. Sometimes it's something about ourselves, sometimes about life, sometimes about the others. Today I've made the biggest realization since the beginning of this trip. I didn't know in which category I should put this post because as though it's strongly linked to the destination, it's about my personal thoughts about travel.
There's something when you arrive to Jasper. A feeling, something I can't describe. Maybe it's the awe caused by the immensity of the mountains, maybe it's the silence, maybe it's something else. Reducing Jasper to a beautiful place would be ignoring what's in front of you, it's ignoring what that huge mountain you see can offer to your mind.
Jasper is a small town standing in the shadow of Banff. Even Canadian tourists prefer Banff. Still, it's a busy place during summertime and the amount of activities you can do equals the activities in any touristic place.
We visitied in December, the quiet, low season. Mountain lovers will know that every season has something to offer. You never get bored. During our stay we did what we love doing : hiking. Of course, the landscape is just perfect for that. I guess at first you don't think about anything, you just fill your eyes with grandiose pictures. Sunsets, sunrises, lakes, rivers, pines and animals. The feeling you get is happiness. Pure happiness, I don't think there's another word for what I felt.
And it's usually at this stage that you, visitor, leave. We have a natural tendency to leave places at the right moment. We stay someplace a few days, just enough to be relaxed and happy, and then we go and we think this place was wonderful. But what happens when you go beyond this stage of pure relaxation and transcendence?  What happens when you stay longer than you need? What do you do when you've done and seen what you came here for?
This is when I realized.
I was hiking -again- in the mountains. The landscape, the animal tracks, the lakes… nothing new. I was tired of walking and not seeing anything new and then, I paused. I looked around and I heard nothing. I could listen to pure silence. For those who haven't experience it, ask yourselves: how often do you go to an absolutely silent place? How often do your ears really get some rest? I looked around and everything was sleeping. I could see the river flow but couldn't hear the water, I knew there were animals around us but still couldn't spot them. Maybe it's the snow. No birds, no bears, the lakes are almost frozen, everyone sleeps.
At this exact moment something overwhelmed me. I felt so small in this natural nest. And I thought: this is what we are avoiding when we go away, this feeling. The one that makes you think about your condition as a human being. When we leave a place at the right moment, it's the right moment because we were entertained. But when you pass that point, nature slaps you hard in the face.
I was standing in the midlle of "nowhere" telling myself: this is what we are. Animals among animals. And we don't stand a chance against anyone.
I probably didn't think of this before because, as you know, I spend my time surrounded by people, trying to prove that travelling is better if you do so.
But Jasper has a cure for that loneliness, it has the friendliest people I've met so far. People greet you and smile at you, hikers talk to you, neighbours come running if you look lost. Maybe it's because everyone knows what a relief it is to come back to the town after a day of hiking and feeling alone and inferior.
I think this is why we like visiting cities. Because we have a lot of things to do and to be concerned about. We are constantly entertained and we never pause to think.
If we do, we don't leave the place with good memories. Why? Everyone has his own answer to that.
This is what I understood in Jasper. I understood that I am relieved when I have something other than myself to put my mind on, I realized that even when I say that I like meditating or that I would like to take a spiritual retreat I want to do it with people. A group, a friend or a mentor, but someone. I don't think I like my own company because when I'm by myself all I do is question everything around me even if I assume every choice I make and made.
Introspection is good for every one. Each one of us needs to learn and grow, assume and understand our choices. But it's very hard to do it for more than two days, at least for me.
And this is why I love and dread nature. This is why I loved Jasper but I'm happy to go.
December 13, 2012